TO RENT: Please see rental rates at the bottom of this page.  Call 801-523-9108  or email manager@ajmotionsports.com  reserve a board. *30% off reservation rate does not apply to SUP Rentals.
TO BUY: Visit us at our Sandy Location or use discount code "suplaunch2017" to save 50% while purchasing online at www.stageideas.com/collections/sup-accessories
GIANT 4th of July Sale!  
All STAGE iSUPS on sale now thru the 4th of July only at AJ Motion Sports Sandy!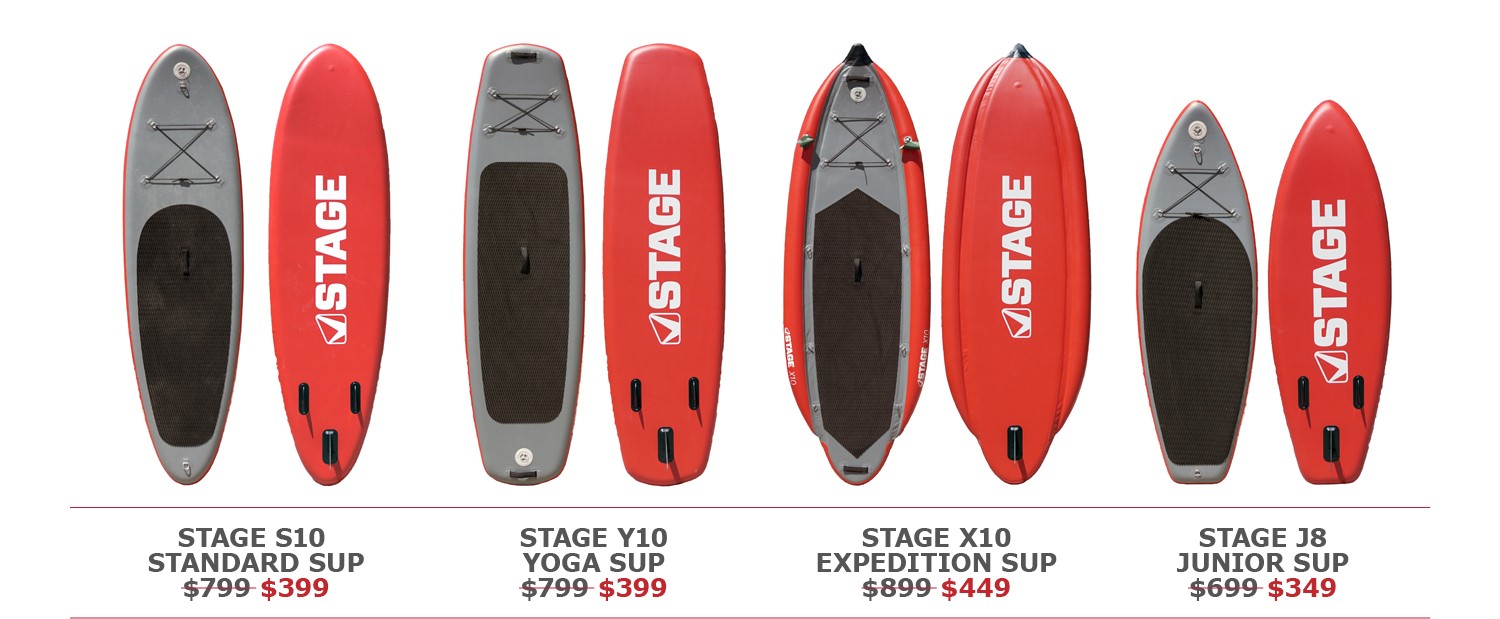 Why AJ Motion Sports?
Your favorite UTAH source for winter daily and seasonal ski rentals will now be offering Inflatable SUP rentals. Different models of boards are available including beginner boards, yoga boards, fishing boards, adventure river boards, and youth/children's boards. Rent your board with the STAGE Switchblade Paddle and easily get around on any lake or river in UT. Special rates are available for multiple day adventures.
We proudly put the customer first and make customer service our first priority.   Please ask us questions we are glad to help.
Why Inflatable SUP Boards?
Inflatable boards are easily transported without the need of roof racks or a giant truck. Fit several in the back of any car and let the day on the water begin. The rental includes a backpack allowing the use of a stand-up paddle board on remote lakes that require a hike to get to! Fly fishing or morning Yoga on a SUP board atop a picturesque Uinta Mountain lake is an experience that is hard to beat!
See how easy it is to inflate our iSUPS.
Why the STAGE Switchblade?
The STAGE Switchblade paddle makes SUP boarding easier and more fun!  AJ Motion Sports in the only SUP Rental shop in Utah where you can Demo the Switchblade Paddle from STAGE.   Once you try the Switchblade it is hard to revert back to a traditional, single bladed SUP Paddle.
Junior SUP Boards
As Low As $

5

Per Day

Daily $20 

2+ Days $15

Weekly $60

Monthly $150
Adult SUP Boards
As low as $

6.67

Per Day

Daily $30 

2+ Days $25

Weekly $90

Monthly $200
| Price | SUP Rental Upgrades & Add-Ons |
| --- | --- |
| $10.00 | Try the SwitchBlade Double Bladed SUP Paddle  |
| $5.00 | Try a Carbon Fiber or Fiberglass SUP Paddle |
| $10.00 | Add on a pair of new STAGE Sunglasses |
| $5.00 | Rent an extra life jacket |
| One Day Rental (max $30) | Buy a SUP and apply your rental fee towards the purchase of the board |
| Price | Lost & Damaged SUP Fees |
| --- | --- |
| $15.00 | Lost or Broken Tail Fin |
| $15.00 | Lost or Broken Paddle |
| $10.00 | Lost or Torn Life Jacket |
| $30.00 | Repair small hole or scratch (repairable area less the 2 inches) |
| $399.99 | Holes larger then 2 inches will be charged the replacement cost of the board. |